16 Nov
Posted by RD Bentley as Geeky Tips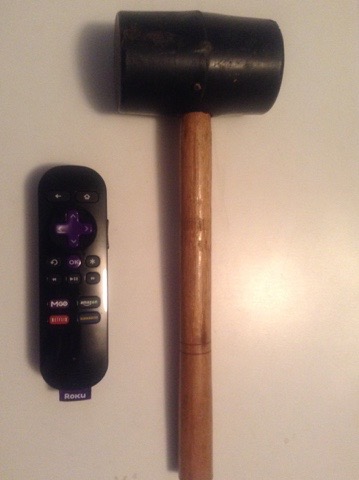 My new Roku media player arrived in the mail and I was in a state of bliss. Finally, another electronic gadget to render the man cave complete. You know the routine. Unbox. Never read instructions. High expectations. No patience. Internet TV not happening this time. Ouch. Roku remote control won't work I guess. Now I need anger management! Somebody please help me!
No need to panic. The Roku Remote Control
(with purple tag) has a secret panic button. Seriously folks. Pull the plastic cover in the back of remote, and you'll see a little button. The Roku guys call it a 'pairing' button. You must 'pair' the remote with the Roku player that plugs into a wall outlet. Press the panic button and hold please! (Note: My other Roku player played fine right out of the box, with no need of pairing.)
But, be sure to unplug the Roku player for approximately 5 to 15 seconds and plug into wall socket. Then push the panic button and hold for 5 seconds. Here are a few items to check. Make sure the little plug inserted into the Roku player is properly secured.
***** Your Android, iPhone, iPad, iPod, etc. will effectively function as a remote control with Roku player. There's an app for that.
If Roku Remote Isn't Functioning
1. Point the remote directly at your Roku player.
2. Try moving closer to your player.
3. Make sure the batteries are fresh or new and inserted properly.
4. Make sure the front of player isn't obstructed.
5. If the status light on the front of your player flashes once each time you press a remote button, the problem is not with the remote.
Take a sip of your favorite beverage. Inhale, then exhale. Repeat after me. I will not get angry. I will not run to the post office and ship this thing back immediately. I will not panic. Okay. Smooth sailing from here. Here's the Roku Guide so you can browse the Roku channels. Enjoy.
---
Solution. Prepare For Warp Drive!
1. Unplug Roku player from wall outlet.
2. Wait 5 to 10 seconds. Plug Roku player back into wall outlet. Roku logo will bounce on TV screen. This is normal.
3. Remove plastic cover (battery door) from back of Roku remote control. It has a latch to press.
4. Insert batteries properly. Smooth bottom, or battery negative goes against the big spring. Positive post touches a small coil.
5. Press and hold the pairing button inside the battery compartment for 3 to 5 seconds.
6. Wait about 10 seconds for remote LED to stop flashing.
7. Try Roku remote again. It should work.
8. Smile.
9. Take family out to dinner. Go shopping afterwards.
10. Return home. Play with Roku as often as recommended.
---