The Tower That Broadcasted The World's First Television Program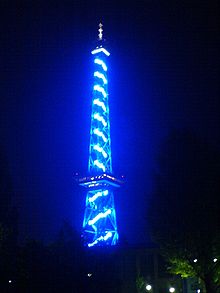 On November 2, 1936, BBC engineers at Alexander Palace transmitted what is often claimed to be the world's first television program. However, the world's first public television transmissions had begun in Berlin, Germany, the previous year. Adolf Hitler became absolutely furious, upon hearing BBC boasting the claim to be the first broadcaster to transmit a television program.
On March 22, 1935, the first regular television program in the world was broadcast from an aerial on the top of the Funkturm Berlin tower. Since 1962, the tower is no longer used for TV transmissions.
The first practical use of television was in Germany. Regular television broadcasts began in Germany in 1929 and in 1936 the Olympic Games in Berlin were broadcast to television stations in Berlin and Leipzig where the public could view the games live.
Nikola Tesla had actually predicted back in 1915 that mankind would produce technology that would allow him to transmit voice and images. In 1936, his prediction did become reality. Tesla was right about many things.
[Source: Television History]
On a special television cable the picture of the speaker in Berlin is transmitted to Leipzig and vice-versa. In this way the two persons are able to see one another and to converse simultaneously over a telephone wire. This is 1936 in Berlin, Germany.
On August 25, 1924, the Funkturm Berlin tower would transmit a radio program. The radio tower 'Berliner Funkturm' was opened to the public on September 3, 1926. Albert Einstein made the opening speech at the 1930 Wireless Exhibition (Funkausstellung) at the foot of the radio tower.
A personal reminiscence for radio amateurs: The author of this page personally also knows the tower from its highest point. For the Radio and Television Exhibition (Internationale Funkaustellung, IFA) in 1971 he was installing antennas with other amateurs (DC7AL, DC7BH, DC7CH, DJ7IC, DL7MO, DL7OG, DL7RR, DC7BJ – the author) on the uppermost mounting platform (on top of the elevator housing) for the amateur radio VHF repeater DL0UB on an outrigger. Lack of vertigo was a must and the reward was a breathtaking view of the city. DL0UB later became DB0WF. Decades later the author was up there again to help servicing the 70 cm – band repeater DB0TA. 73 de DC7BJ, Rainer [Source: Wumpus's Old Radio World]
The Funkturm Berlin built between 1924 and 1926 by Heinrich Straumer, which is nicknamed "der lange Lulatsch" ("the lanky lad"), is a point of interest in Berlin. Since 1973, the radio tower no longer serves as a regular transmission tower for broadcasting purposes, but it is still used as relay station for amateur radio, police radio, and mobile phone services.
Phone: (030) 38 19 05
Opening hours: Mon. 11am – 9pm; Tue. – Sun. 10am – 11pm
Map: Mapquest